What you need to know
Telegram's latest update introduces new privacy features and emoji packs.
The messaging app also adds new ways to make your profile photo visible only to your contacts while setting a separate public profile photo.
You can also auto-delete media and documents from your phone's storage and re-download them when necessary.
Additionally, Telegram introduces new drawing and text tools along with other minor features.
Telegram wrapped up 2022 with a bang by introducing a ton of new features (opens in new tab) that enhance your privacy and overall experience in the app, along with minor updates like fun new emojis as well as improved drawing and text tools.
One of the most notable new additions to Telegram's ever-expanding feature pack is hidden media, which is something you won't find in many of the best messaging apps like WhatsApp. The new feature allows you to hide a photo or video behind a spoiler filter if you wish to drum up excitement as family members open a picture of your wrapped presents for them. A single tap will let recipients uncover the mystery photo.
Telegram first introduced this spoiler formatting late last year, just in time for the 2022 New Year celebration, as a way to hide text in messages. The most recent feature comes in handy when you want to obscure sensitive media with a blur filter.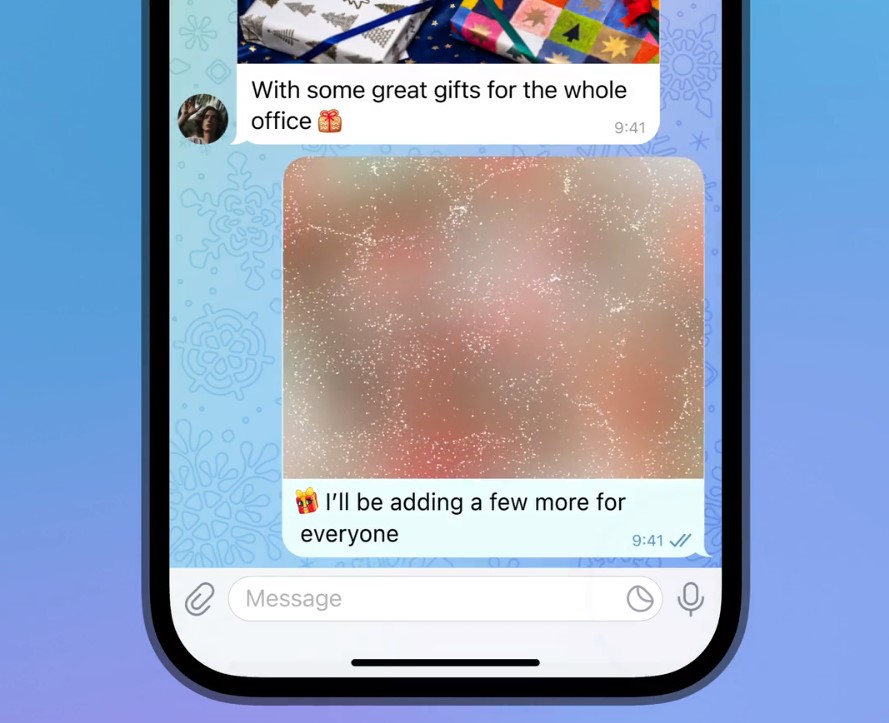 There's also a new way to make Telegram's cached files virtually vanish from your phone's storage. The latest update allows you to auto-remove cached media from private chats, groups, and channels. That said, you can make an exception for certain conversations that matter to you.
A new pie chart also lets you visualize the things that take up space. Additionally, you can clear the most space-consuming items with new dedicated tabs for media, files, and music.
Of course, you can re-download the files from your Telegram cloud whenever necessary. While the messaging service already allows you to set a maximum cache size and have unused items deleted after a certain period of time, the new feature gives you more granular control over your phone's storage.
More privacy options
On the privacy front, Telegram has added a new way to keep your profile photo visible only to your contacts while setting a separate photo for public view. You can even choose to hide your image from everyone except a few users of your choosing.
Speaking of profile pictures, you can also set one for any of your contacts without them knowing it. This means only you can view the photo you've assigned to their contact info. But if you wish to suggest the same picture to them, you can do so, assuming they like it. 
For group admins that manage more than 100 members, Telegram groups now have a new feature that makes it easier to hide the members list and protect them from unwanted personal chats. However, anyone — including spammers — will still find a way to send unwanted messages to group members who post a message within the community.
Minor updates
In addition to the aforementioned changes, Telegram sneaked in a handful of minor tweaks to the app. There are new drawing and text tools, including a blur effect to hide sensitive data and a new eyedropper tool for a more precise way to choose colors.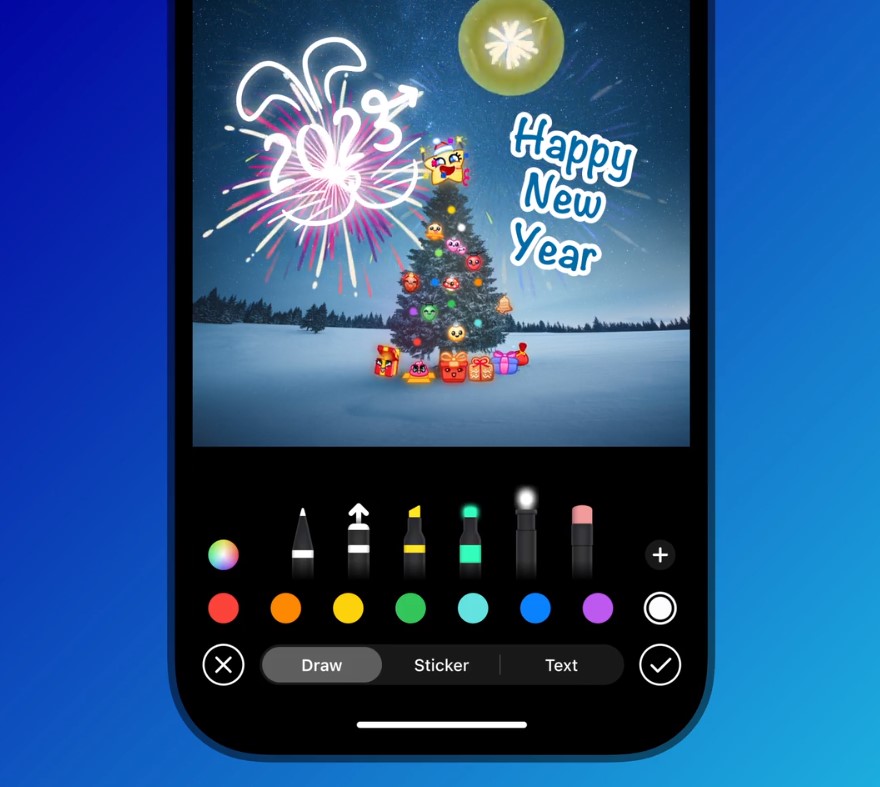 It is also now possible to adjust the size, font, and background of text when adding one to an image or video. You can also add custom animated emoji to text on images, even if you're not a Premium user.
Additionally, Telegram has added new animations for when you jump to a distant reply in a crowded chat as well as to other pages in the app. There are 10 new packs of custom animated emoji for Premium users as well.
It's also easier to organize conversations with "Topics," now available for all groups. The feature was previously limited only to large group sizes.
The latest, huge update is Telegram's way of ending 2022 in style, and it's definitely worth a shot.